A fact which is relatively unknown in Anglophone comics industry is that after the japanese, the French are the world's biggest consumers of graphic novels.
An innovative wine maker named Romain Sou has created a concept called "BD & Vin" – bande dessinnee ("drawn strips", or graphic novels) and wine.
Our review us been negligent in not dealing with bande dessinnee before. It is an enormous industry, and the subject of academic study at Université Sorbonne Nouvelle, as detailed in this article from the Society for French Studies at the University of Oxford. The website Pipeline Comics provides a brief analysis of the size of the market: it reports that Titeuf, a comic which most Anglophones are unlikely to have head of, had an initial run of 1.8 million copies.
From 2004 to 2014, the Japanese Weekly Morning manga published Drops of God (神の雫 Kami no Shizuku), created and written by Tadashi Agi, a pseudonym employed by creative team of sister and brother Yuko and Shin Kibayashi. It was about wine, and has been enormously influential in Japan in respect of interest in especially French wines and their consumption. The plot is described on the Grape Collective website as follows:
The Drops of God tells the story of Kanzaki Shizuku, a junior employee at a Japanese beverage distributor that sells beer, who has spent his adult life estranged from his father, a legendary oenologist. Despite his father's vaulted status, Shizuku has never bothered to learn about wine. Indeed, he has never even drunk wine, presumably out of spite for his father's obsession.
Upon learning of his father's death, he is summoned to his family home to hear the will. Much to his surprise, Shizuku learns that a wine critic his father had recently adopted is also in line to inherit the vast estate and world-renowned wine collection. In order to determine who would inherit the fortune, his father designed a competition for the two "brothers," one in which they would be tasked with solving twelve riddles—as inspired by their late father—about twelve wines, known as the "Twelve Apostles." Once they had successfully identified and described those twelve wines, they would embark on a final journey to track down a thirteenth bottle, known as the Drops of God. With no alternative and a reluctance to see the fortune torn from his hands, Shizuku accepts the terms of the will, and thus begins Shizuku's adventure.
The effect of the manga upon wine sales was not confined to Japan: as a consequence of the manga, the Korea Times reported sale of fine wines in South Korea in 2008 significantly increased to the point it was dubbed the "wine syndrome". Called "Les Gouttes de Dieu" in the French translation, the manga was also enormously successful in France and propelled the idea of BD&V.
Drops of God inspired French manga about wine, including:
a. Les ignorants (2011) by Étienne Davodeau ;
b. Mimi, Fifi, and Glouglou (2013 onwards) by Michel Tolmer.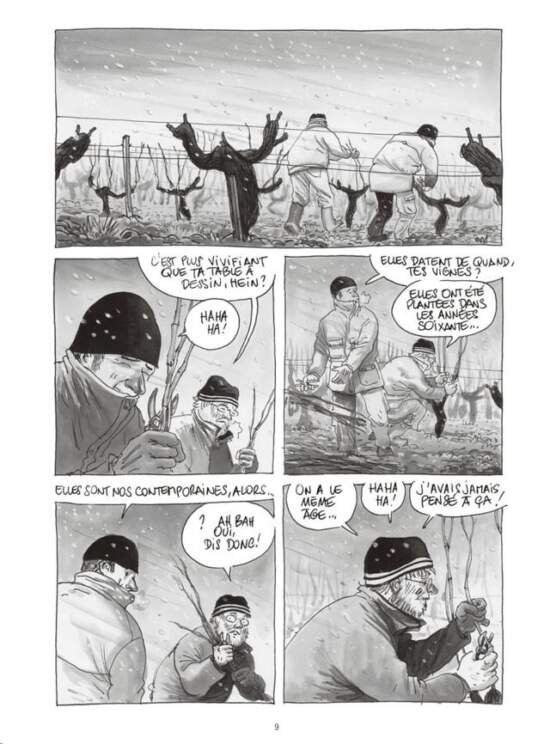 Mr Sou says, "I love graphic novels and so do most of my friends. But ten years ago, when we started, it wasn't at all obvious that there would be a thirst for graphic novels about wine."
(This note was based upon an article published in The Times of India on 1 July 2018)