US publisher DC Comics have noted the 80th anniversary of the first appearance of superhero Green Lantern by publishing a special edition comic book, entitled, Green Lantern 80th Anniversary 100-Page Spectacular. This is the publisher's advertising copy:
DC celebrates the 80th anniversary of the Emerald Knight with this new hardcover collection of the best Green Lantern tales across the decades! This new hardcover celebrates the legacy of Green Lantern, from the debut of Alan Scott in 1940, to the character's rebirth in 1959 as test pilot Hal Jordan-part of a vast Green Lantern Corps that serves justice across the galaxy-to John Stewart, Guy Gardner, Kyle Rayner, Jessica Cruz, and beyond. Included in this title are some of the greatest Green Lantern tales ever, featuring stories and art by comics' top talents.
There are many creative contributors to the anthology: the stories are written by James Tynion IV, Geoff Johns, Cullen Bunn, Dennis O'Neil, Ron Marz, Peter Tomasi, Charlotte (Fullerton) McDuffie, Robert Vendetti, Mariko Tamaki and Sina Grace: with art by Gary Frank, Ivan Reis, Doug Mahnke, Mike Grell, Darryl Banks, Fernando Pasarin, Crisscross, Rafa Sandoval, Mirka Andolfo, Ramon Villalobos, Wade Von Grawbadger, Jordi Tarragona, Steve Oliff, Alex Sinclair, David Baron, Lovern Kindzierski, Hi-Fi, Gabe Eltaeb, Luis Guerrero, Ivan Plascencia, Arif Prianto and Rico Renzi.
There are ten stories in the anthology. We do not propose to review them – we leave that to others – other than to note a significant character development.
Creation
DC Comics has been involved in two disputes concerning Green Lantern trade marks before the United States Patent and Trade Mark Office, the first in 2012 and the second in 2016. How does DC Comics as a corporation define "Green Lantern"? The initiating document in the 2016 dispute captures it drily: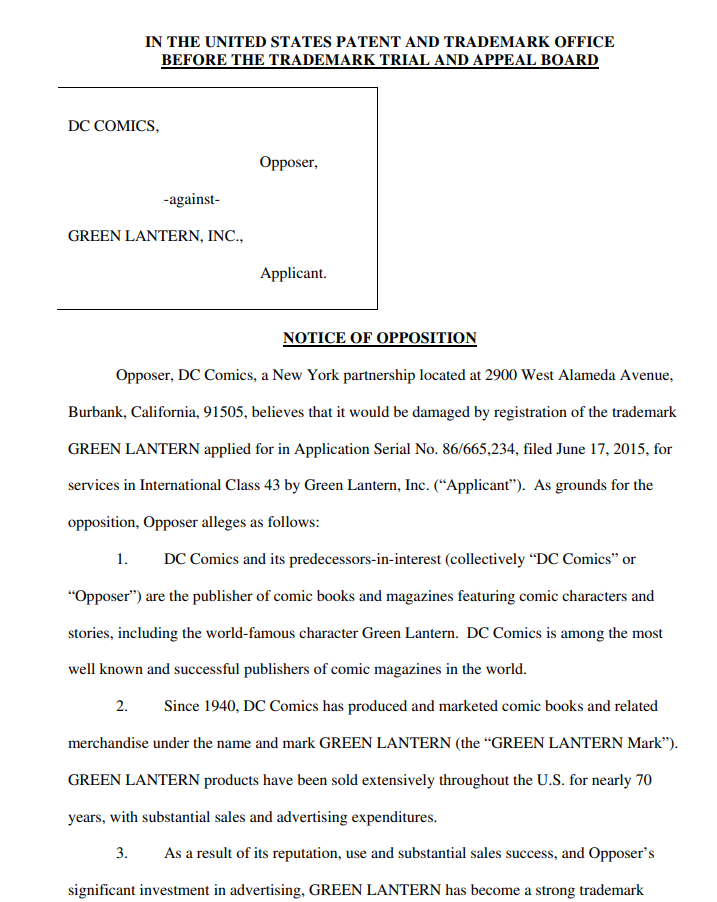 This is a meagre skeleton, bereft of its flesh. Martin Nodell (initially using the name Mart Dellon) created the first Green Lantern, together with writer Bill Finger. Mr Nodell's inspiraiton is well known. Here is an extract from Mr Nodell's 2006 obituary in The Independent https://www.independent.co.uk/news/obituaries/mart-nodell-429218.html :
Nodell claimed he had been inspired by Wagner's operatic Ring cycle and the sight of a subway train worker waving his green railway lantern. Fine-tuned by the experienced writer (and Batman co-creator) Bill Finger, the gaudily clad vigilante first saw print in All-American Comics #16, dated July 1940, in an eight-page origin story co-written by Finger and Nodell and drawn by Nodell (under the pseudonym Mart Dellon).
in an interview in Roy Thomas' comics history magazine Alter Ego #2 (1999), Mr Nodell describes his interest in Greek mythology, Chinese mythology, and the Wagnerian Ring Cycle as inspirations. He notes that in 1940 he met comics editor Sheldon Mayer, who said "we're looking for another superhero". Mr Nodell said,
"I was going home to Brooklyn, and I tried working out some ideas as I got to the station. I was writing down everything I could possibly think of. I thought, "Gee, I've got to do this real quick, because if I think of something, other people will too." As I entered the subway, there were a number of people standing around, and there was a train man in the subway station, in the trough of the tracks, and he was waving a red lantern, which meant, "Hold the train, don't come in." When he checked the tracks, he waved a green lantern. The green lantern meant, "Come in". As the train would come in, he would get out of the way, get behind a pole and stay there, and that was the end of his part in "Green Lantern". But when that green lantern meant something to me, I just wrote it down: "The Green Lantern"…. And then, thinking of Green mythology, I designed a costume, and that costume seemed to me to be very important to the eye…. The movies had a lot of heroes – swordsmen and the like – and that helped me to create the costume the way it was, with billowy sleeves…. the cowl was Shelly Mayer's idea. I felt the cape I gave him was theatrical. It seemed to have the flow of the theatre. The theatre meant so much to me in the past. I'd seen any number of plays, and that seemed to help me. As I saw it, the mask I gave him would allow him to be a hero, and would still show his features. I thought of him as being blond, and a healthy type, and all that. Oh – and the cape, from the bottom down, I felt, would flow interestingly, Eventually I made it even more flowing."
Another notable source of inspiration might have been Diamond Jack, an obscure hero in the short lived Fawcett Comic called Slam-Bang Comics. Diamond Jack appeared in January 1940, and wielded a black diamond set in a gold ring. It was given to him by an old Eastern mystic, with it he was able to form anything his mind could imagine, shoot bolts of lightning like energy and fly, however how long the object lasted or how well he flew depended on his concentration and force of will.
As we shall shortly see, this is not the only time Green Lantern has been caught up in allegations of misappropriation.
Timeline
It is worthwhile revisiting some of the significant moments of the characters' history:
1959: As part of the revitalisation of DC Comics' portfolio of characters, the Golden Age version of Green Lantern was rejigged in 1962 by writer John Broome and artist Gil Kane into a space policeman, directly mimicking E.E. "Doc" Smith's Lensmen classic science fiction novels. Editor Julius Schwartz was an agent for many sci-fi authors, including Mr Smith, and was plainly aware of Lensmen stories published from 1937 to 1938, collected as a novel entitled Galactic Patrol. (Roy Thomas in a 2001 article entitled "The Lensman Connection" appearing in Alter Ego said that Mr Schwartz denied any connection – implausibly, in our view.)
In any event, gone was the magical element of the character's powers, introduced in 1940. Instead, Hal Jordan, test pilot, was given by a dying alien a ring which was created by ancient beings on the planet Oa. Wielders of the ring, together known as the Green Lantern Corps, wear a uniform and each patrol one of 3600 sectors of the universe. (We are remiss in this article in not discussing any of the alien Green Lanterns – there are, simply, too many to squeeze in.) The Earth sits in sector 2814. Alan Scott would appear again when DC Comics created Earth-2, the alternate reality which housed the publishers' Golden Age characters.
1974: the late Denny O'Neil, together with artist Neal Adams, refreshed the Green Lantern title so as to involve the superhero archer Green Arrow as a firebrand foil to Hal Jordan's staid personality. Mr O'Neil as writer used the title to tackle issues such as environmentalism, drug addiction (Green Arrow's ward Speedy was revealed as a heroin addict), and racism. The title had an impact beyond the narrow readership of superhero comics: Mr O'Neal was interviewed in mainstream press about his story lines.
1983: Mr Thomas, at that stage the writer of a comic, featuring the original Alan Scott version of Green Lantern, called All-Star Squadron, revealed than Scott had twin children, the super-powered Jade and Obsidian. Both twins were somehow granted their powers through Alan Scott's ring. (Somewhat disturbingly, Jade and Obsidian's mother was Rose Canton, also known as Thorn, a villain suffering from severe schizophrenia. One assumes that the heroic Alan Scott was not aware of this.)
1986: Hal Jordan quits being Green Lantern after his girlfriend's air company is trashed by super-villains – Jordan was in deep space saving a planet from destruction, without doubt the nobler cause, but enough to make him chose love over duty. John Stewart, one of the long-standing reserve Green Lantern for sector 2814, takes over the role. Stewart, a black American, has intermittently continued in role as a Green Lantern, even after Hal Jordan's return from retirement.
1990: another reservist Green Lantern, Guy Gardner, joins the Justice League. Repeated harassment of his team mates leads to Batman punching him unconscious in a story written by Keith Giffen. Gardner suffers from brain damage and a personality shift and becomes meeker and milder. (Inevitably, this is eventually reversed.)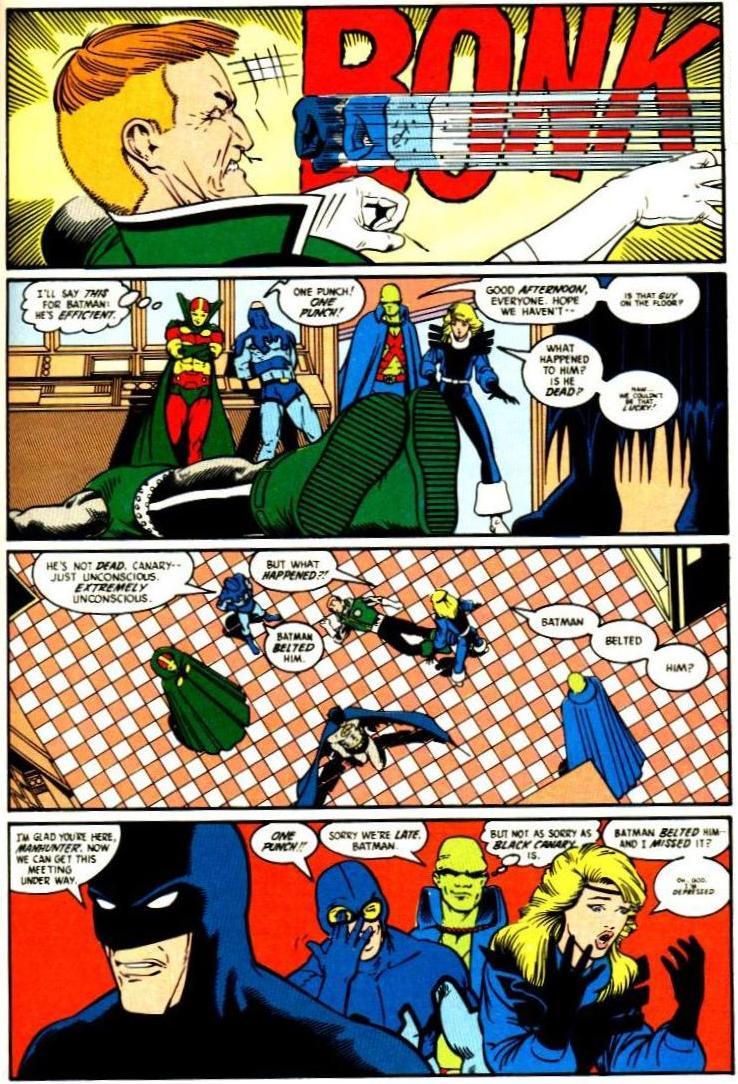 1993: in a very controversial story written by Ron Marz, Hal Jordan suffers from post-traumatic stress disorder following the destruction of Coast City. Jordan visits Oa, kills Green Lanterns and (almost all of) their masters, the Guardians of the Universe, and becomes a super-villain named Parallax. By 1994, Jordan has been shot in the chest by Green Arrow and dies. In the meantime, Kyle Rayner has replaced Jordan, but as the universe's sole Green Lantern. By 2004, Jordan has been returned to the role of Green Lantern and the Green Lantern Corps is revived.
1995: the original Alan Scott Green Lantern has a change of name – "Sentinel".
This name change is reversed in 2003. Why did it occur? An article in Comic Book Resources of November 2002 hints at it: https://www.cbr.com/issue-63-4/ – "If Martin Nodell, for instance, decides to push his claim on Green Lantern…" On 8 October 2004, the heirs of Superman creator Jerry Siegel heirs commenced legal proceedings in California to assert their claim they owned 50% of the copyright of Superman (the other half belonging to Superman co-creator, Joe Shuster). On 22 October 2004, Mr Siegel's heirs filed another lawsuit in the same court over the rights to Superboy. As Wikipedia notes,
"The legal dispute affected DC Comics' treatment of the various incarnations of Superboy. In the Secret Origin of the Teen Titans back-up story (March 28, 2007) in the weekly 52 limited series, an illustration of Superboy was changed into Wonder Girl.[69] In the Sinestro Corps War storyline in the Green Lantern titles and in the Countdown to Final Crisis limited series, the Superboy-Prime character was referred to as Superman-Prime, a development that came about in part because of the legal dispute."
Did Mr Nodell bring a threat against DC Comics in 1995, resulting in the re-brand of his creation, which was resolved in 2003? There is this interesting and anonymous comment in an article https://deadline.com/2011/12/ghost-rider-rights-belong-to-marvel-federal-judge-rules-208628/ about a copyright dispute over the Marvel Comics' character, Ghost Rider:
The man who first drew the Pillsbury Doughboy, as it happens, was none other than Mart Nodell, the creator of the Green Lantern back in the 40's. The Pillsbury Doughboy was an idea he came up with as part of an ad campaign back in the early 50's, so he was a well-compensated employee at the time of its creation. Nothing to fight about there. However, Paul Levitz [DC Comics' editor-in-chief] did arrange on the QT for Nodell and his wife to receive annual payments until their death as compensation for Mart's contributions to creating Green Lantern. DC knew they had a major mess on their hands if more creators launched their own suits on top of the one filed by the Siegel estate at the time, so they tried to diffuse the situation as best as they could. How many other creators received similar payoffs on the side is unknown.
2012 and 2013: Two new human Green Lanterns are introduced: Simon Baz and Jessica Cruz. Baz, a Lebanese-American Muslim who suffers from discrimination within his US community, carries a gun, until talked out of it by Batman. Cruz is described as both Mexican-American and Honduran-American, and is based upon Spanish actress Penelope Cruz.
And now in 2020, we have Alan Scott depicted as a gay man in the 1940s. Green Lantern 80th Anniversary 100-Page Spectacular notes that a man named Jimmy was a casualty of the train wreck that lead to Alan Scoot's discovery of his mystical lantern. The story depicts Scott as coming to pay his respects to Jimmy's mother. In flashback, we see that Alan and Jimmy were on the train together, and we learn that they were lovers.
It is very far from DC Comics' description of the property in its 2016 trade mark dispute, and a long way from Martin Nodell's desperate scribbling on the train to Brooklyn back in 1940. The character's ongoing evolution suggests to us a desire to keep perpetuating Green Lantern, by keeping the character relevant to contemporary readers. Happy Birthday, Green Lantern.