One of the original covers by Hergé for his fifth Tintin comic book Le Lotus Bleu (The Blue Lotus) from 1936 will on 21 November 2020 be auctioned by French auction house Artcurial.
Tintin's creator, Hergé, drew the cover for his fifth album of the adventures of Tintin in 1936. However, it was too expensive to mass produce the cover due to the use of four colours. Instead, the book featured this cover: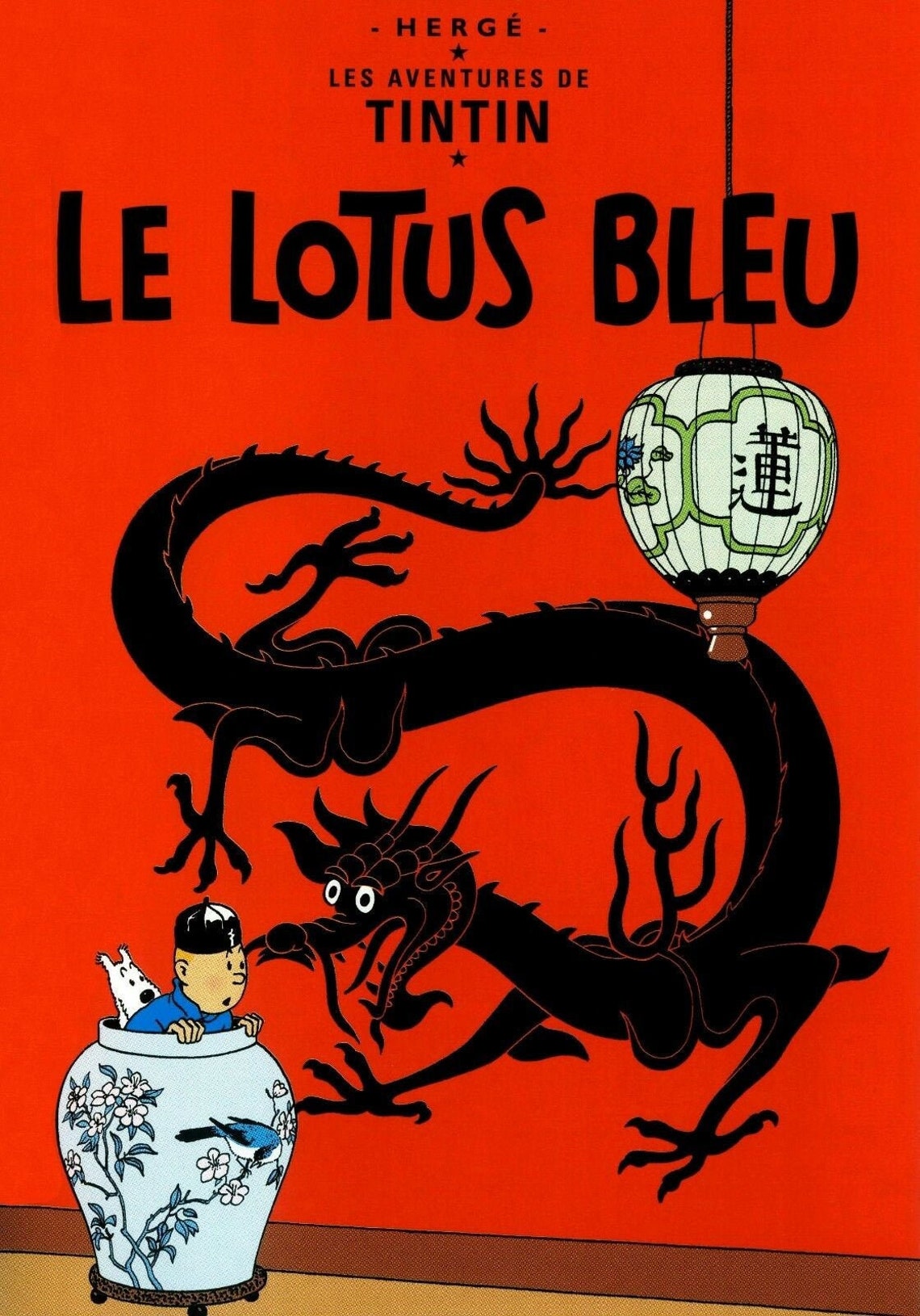 The original cover is quite beautiful, using Chinese calligraphy and ink swirls to convey the movement of water around the dragon. In a close-up of Tintin's and Snowy's faces, it is eas to see that originally placed Tintin's right eye further to the left, and his fox terrier Snowy's left eyebrow was originally decidedly more arched.
The auction website Barnabys.com notes https://www.barnebys.com/blog/original-tintin-cover-art-at-auction :
"Le Lotus Bleu, the fifth of Tintin's 24 adventures, follows the little reporter, and his beloved sidekick Snowy, as he travels to China to solve the case of an opium trafficking ring. In 1934, after Hergé met Chinese sculptorTchang Tchong-Jen, the only real person besides Al Capone to be integrated into the Tintin comics, his characteristic realist style emerged."
The Times of London adds https://www.thetimes.co.uk/article/tintins-latest-adventure-is-to-break-comic-art-record-2qrsx9njn :
The canvas was inspired by a picture of Anna May Wong, the Chinese-American actress who appeared with Marlene Dietrich in the 1932 film Shanghai Express.
The first draft was given to Jean-Paul Casterman, the son of Louis Casterman, Hergé's editor. Mr Casterman folded the drawing (the fold lines clearly visible) and put in a drawer. It stayed there until 1981, when Mr Casterman asked Hergé to sign it.
Hergé used India ink, watercolour and gouache on paper. Tintin original art has become extremely collectible. The drawing is estimated to be worth between USD $2.3-3.5 million. We will edit this story in due course with a post-script revealing the auction price.
Update: On 14 January 2021 the cover went to auction, and is reported by the BBC https://www.bbc.com/news/world-europe-55667043 as having sold for €3.2m ($3.9m, £2.8m).