Writer: Brandon Montclare
Art: Amy Reeder
Image Comics, 2014 and 2017
RHYMES AND REASONS FOR ROMANCE PERSIST. Placing a young teen girl in a skin-tight flightsuit would not usually appeal to me, due to the improbability, feels cooked-up for a market demographic, which appears to be exactly how the time traveler police girl from the future story originated in banter between writer Brandon Montclare and artist Amy Reeder: "Wait, what's a rocket girl?" she asked, and behold. Then I get carried into it whatever my demographic, since I decided wherever artist Amy Reeder goes, I'm following.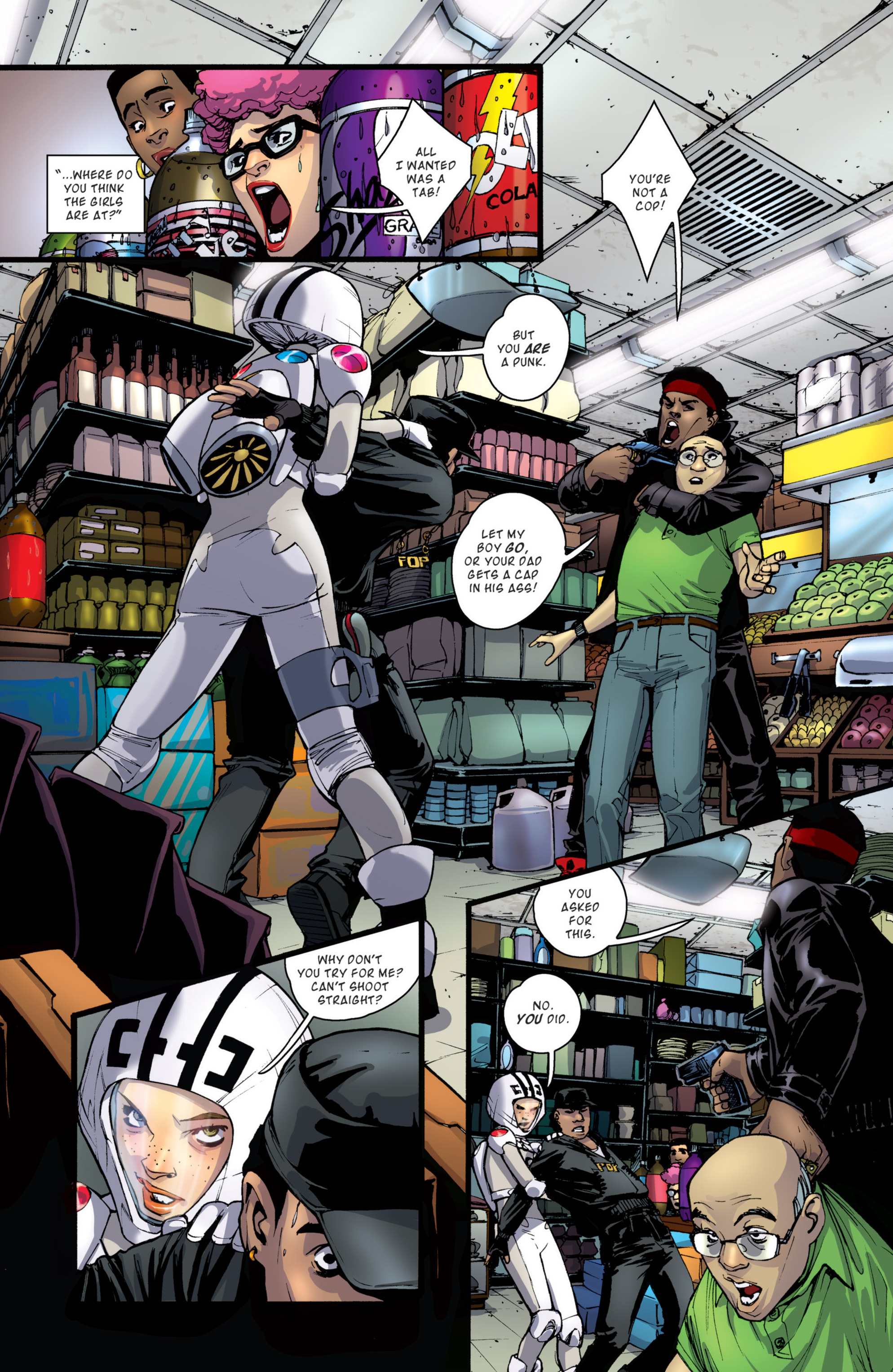 Improbabilities multiply in the Rocket Girl story, and possibly kids will love the ever-present challenge to what might be, in spite of what we think we know, or someone knows. Gosh the world is magical after all, for some of us. And cute. Scene shifts I found confusing between then and now, and a then/then and a then/now, at least four period places in spacetime all together or more. I accepted the shifts as part of the dramatic tension and kept marvelling at the shifting art. This is why I time-travelled to this spot in the first place.


This spot, like a position with an arrow, this vector that is my fate from right here. The whole plot appears to hinge on a therapeutic redirection of time's arrow; and one has to wonder along the way who it is that deems themselves righteous enough to judge and redirect? Just this little girl in a rocket outfit? What scope of calamity awaits that could make any one of us wish to go back in time to change some determinate thing to make it all right? Would what we think is the key really be the key? Notice the storyteller in spite of an artificial and improbable stringing together of rhymes and reasons manages nevertheless to add shades of mystery and genuine experience.

The art is the romance for me though, every page spread I never noticed until looking back at them is different: splashing upward in rays propelling the action, or inset in windows or an array of overlapping dialogue, or tiered, splintered, towering, all done without bombast or stylizing, or maybe it is all bombast and stylizing, yet accomplished with utter simplicity, only a few lines, and the scenes pop into three-dimensional depths and move. Colored inks finish the affects brilliantly, yet I believe even in black and white these drawings would arouse wonderment as they come to life step by simple step even before they're quite done. Effective affection. How do her lines meld together and disappear that way?


It's not the art's exquisiteness or splash or unique technique. It's just plainly there, and so is the reader, me anyway, following Reeder. Other titles feature this writer/artist team. This story is from 2016. Rewind and find others before they disappear. Time's arrow is about to turn.
Tic tic tic tic tic tic tic tic … [Editor's note: two collected volumes of Rocket Girl have been released by Image Comics: Rocket Girl Volume 1 – Times Squared, collecting ROCKET GIRL #1-5, released on 9 July 2014, and Rocket Girl Volume 2 – Only the Good…, collecting ROCKET GIRL #6-10, released 6 December 2017. Sadly, the series has not been published since then.]