Writers: Gary Chaloner, Tad Pietrzykowski, Tim McEwan
Artist: Gary Chaloner, Tim McEwan, Michael Michalandos
Cyclone Comics, November 2020
This anthology is divided into three separate stories. We deal with them in reverse order.
The final tale, Red Kelso 1931 – Gorilla Land, is an archaeology caper, in the sense not so much of Indiana Jones as the 1930s pulp of Doc Savage. It is, curiously, printed sideways on the page. This gives the story a surprisingly cinematic feel – every page is literally widescreen. Writer and artist Gary Chaloner might have seen this somewhere before, but we have not and we found it highly innovative. Mr Chaloner's art is comparable of Eduardo Risso, or perhaps Kevin O'Neill, and Mr Chaloner shares Mr Risso's skill in delivering both highly distinctive facial expressions and backgrounds.
An oddball but highly competent team of adventurers – Lord George Roxton, Novak, Pinot, Pongo, and Remi – find themselves pinned down in a fight with an angry indigenous tribe, an errant dinosaur, and interference from a pervasive magnetic disturbance. There is an interesting dynamic at play between two of the main characters. Roxton is a toffy colonialist with a pith helmet, and boots which were a "gift of the Sultan of Brunei". And then we have Pongo, a rough and tumble troll who is happy to urinate on Roxton's boots. They clearly detest each other.
But when peril manifests, the two have each other's back and it is clear that they like and respect each other skills and teamwork. A solid partnership only emerges in a time of intense stress, a counterintuitive depiction of how people confront danger. It is a wonderful piece of characterisation.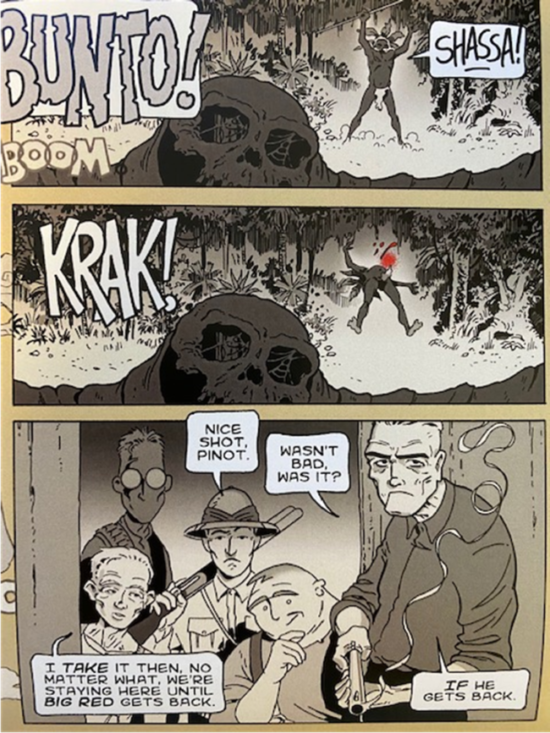 And there is something quite dynamic about the crack shooting: Roxton picks off the dinosaur, and Remi disposes of an aggressive witch doctor from a far distance. This sudden and unexpected action is compelling. And these panels also capture the quintessence of the colonial explorer: the sort of calm indifference to mortal danger exhibited by the likes of General Gordon in Khartoum.
This story, overall, within its genre, is close to perfect.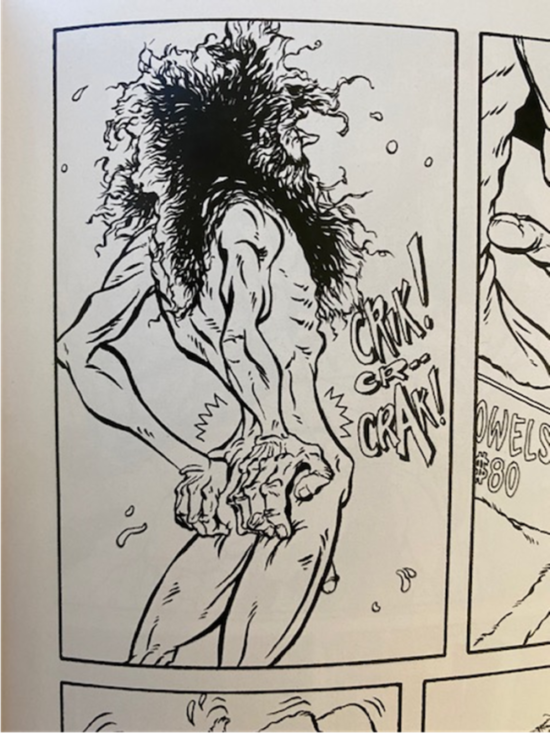 The second tale, a prelude to the more substantive Greener Pastures plot, is short and quite strange. It involves a man who lives under the sea who raises himself to come to the surface in the Australian city of Sydney and walks, purposively, amongst ordinary humans. The man looks vaguely like English comic book writer, Alan Moore, but with the addition of initially being dotted in barnacles. This nameless protagonist marches to a television studio to crash an inane breakfast show.
The crescendo to the story is a filth-laden warning about the despoiling of the marine environment. There is a strong sense of Warren Ellis' Transmetropolitan to the story: the ranting oracle warning of the stupidity of society and the coming of a Biblical flood. It is over in the blink of an eye, but is unpredictable and amusing.
Unlike the other tales in this anthology, the first story is in colour. It is a superhero story called Cyclone Force – Whatever happened to Flash Damingo? Back in 1985, there was a well-known Australian engagement in the superhero genre which involved Mr Chaloner, with an anthology title originally called Cyclone! (see https://en.wikipedia.org/wiki/Cyclone! ) later renamed the Southern Squadron. Your reviewer remembers it well. The characters of the Southern Squadron mostly consisted of various Australian stereotypes endowed with superpowers. It has however not dated well – think of the themed teams of supervillains created by Mike W. Barr from 1985 to 1988 in Batman and the Outsiders (the Nuclear Family, the Masters of Disaster, the Force of July, and the People's Heroes).
The story in this anthology is a modern sequel to the Southern Squadron's history, with some new concepts thrown in for good measure. If you have read and were fond of the Southern Squadron, then you might like this fast-paced tale. But, notwithstanding the background provided by way of faux classified documents scattered at the tops of every page, for the uninformed reader there will be a great deal of head-scratching. It was the wrong story to lead with in this anthology. We think Mr Chaloner should cast off his nostalgia for a long-ago series he was clearly immersed in and devoted to, and instead focus upon more contemporary comic book innovation. (He is clearly exceptionally good at that.)
Missing from the three stories is what is promised on the cover – Trevor Bovis, the star of Greener Pastures. Wonderfully, Bovis is a depressed minotaur who works as a tax lawyer. A few pages of Greener Pastures were teased in the West Coast Anthology which we recently reviewed (see https://worldcomicbookreview.com/2021/12/26/west-coast-comic-anthology-review/ ). It seems however that Bovis will appear in Adventure Illustrated #2, which recently finished a Kickstarter campaign – https://www.kickstarter.com/projects/garychaloner/adventure-illustrated-2.