This piece, which is a review only in the loosest sense, is inspired by David Bader's book, "One Hundred Great Books in Haiku" (Penguin Books, 2010).
As the promotional copy for Mr Bader's book notes, "In the sixteenth century, Zen monks in Japan developed the haiku, an unrhymed poetic form consisting of 17 syllables arranged in three lines."
Here are our arrangements for ten famous/infamous (but not necessarily great) comic books, written in the traditional 5/7/5 syllable count.
Think you can do better? The writer of the best haiku (as judged by our editor) posted on our site (post your haiku in the comments below) before 1 February 2017 will win a $100 Comixology gift voucher.
1. Dark Knight Returns (Writer: Frank Miller. DC Comics, 1986)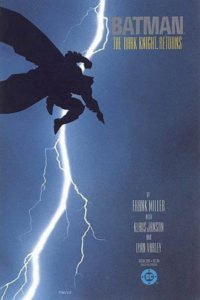 A death wish should not
Be Carried out by duelling
Alien in tights
---

2. Watchmen (Writer: Alan Moore. DC Comics, 1986-7)

Soviet tanks roll
When weird blue sex romps end:
What's with the pirates?
---

3. Crisis on Infinite Earths (Writer: Marv Wolfman. DC Comics, 1985-6)

Publisher's clean-up
By infinite murders
(Unravelled years since)
---

4. Uncanny X-Men #129-138 (Writer: Chris Claremont. Marvel Comics, 1980)

Hungry teenager
Eats star, and then suicides.
Odd message to kids.
---

5. Justice League #50 (Writer: Geoff Johns. DC Comics, 2016)

Weaponised baby
Shoots iconic villains dead.
You're a hack, Geoff Johns.
---

6. Asterix (Writers: Rene Goscinny, Albert Uderzo, Jean-Yves Ferri. Dargaud, 1959-2010)

Two Gauls in closet
Work through man-love frustrations
Punching Roman troops
---

7. Planetary (Writer: Warren Ellis. Wildstorm Comics, 1999-2009)

Curmudgeon in white
Ices up irritations
(Ellis is that you?)
---

8. Doraemon (Writer: Fujiko Fujio. Shogakukan, 1969-1996)

Friendly blue robot
Saves boy. Steel ears chewed by mice!?
Disney subtext hate?
---

9. One Piece (Writer: Eiichiro Oda. Jump Comics, 1997-2016)

Gol D. Rogers
you bastard. Your gallows falsehoods
bewitched Monkey D.
---

10. Thor #1 (Writer: Jason Aaron. Marvel Comics, 2015)

Mummy's boy with
Phallic thunder-stick sad when
Ex-girlfriend steals it